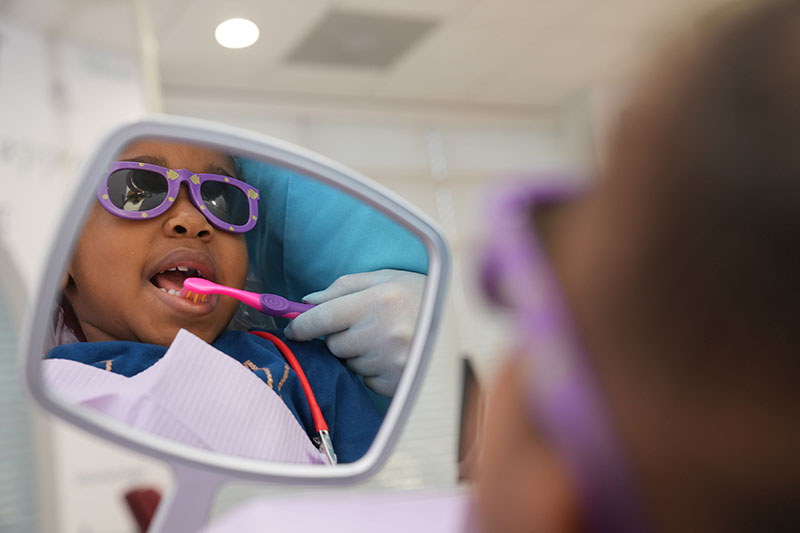 The goal of preventive care is to protect your child's smile from damage caused by tooth decay, gum disease and other harmful dental conditions. Routine dental visits allow our team to identify dental diseases before they cause damage that requires repair. We offer several preventive dental treatments to help you keep your child's smile in the best possible condition. These services include dental cleanings, fluoride applications, digital X-rays and sealant applications. Visiting our office regularly ensures that we detect and treat any early signs of damage before they become more extensive and painful.
There are several steps you can take to help prevent your child from developing cavities and tooth decay. Our pediatric dentists and team recommend the following guidelines:
Make sure your child brushes their teeth at least twice a day and flosses their teeth every day. If your child does not have the dexterity to do this themselves, they will need your assistance. A good guideline is if they can tie their own shoes, they are able to brush on their own. Use a soft-bristled toothbrush and a fluoridated toothpaste.
Maintain a balanced, healthy diet with a limited amount of sugary or acidic foods.
Visit our office at least twice a year for a routine teeth cleaning and dental exam.
Ask Dr. M. Danielle Funny or Dr. Sonya Maynor about dental sealants and fluoride treatments to see if they are right for your child's smile.
Dental Cleanings & Exams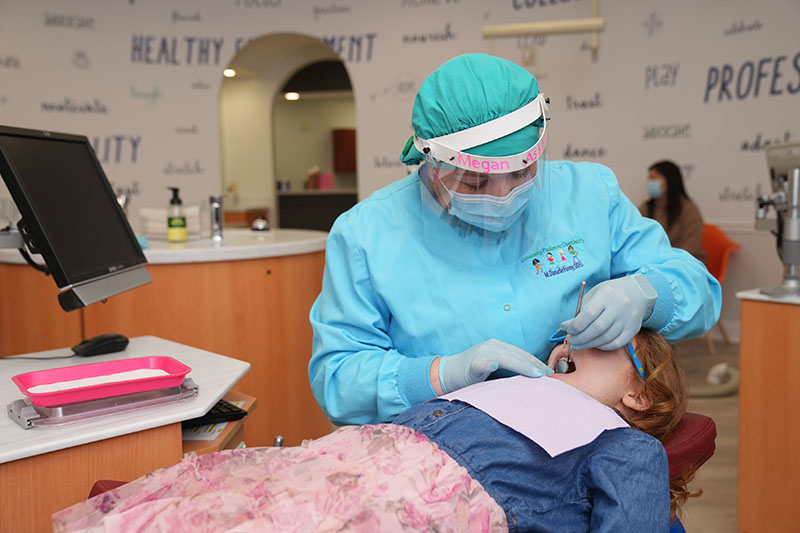 Regular dental cleanings and exams are a vital part of your child's oral health. These appointments allow Dr. Funny and Dr. Maynor to monitor your child's mouth as it relates to growth and development, and to quickly provide any needed treatments.
Each time you visit our dental practice for your child's checkup, we will provide a professional teeth cleaning and dental exam to help your child's smile stay healthy. During your child's visit, our dental team will:
Clean your child's teeth by removing any plaque or tartar (also called dental calculus), which can lead to tooth decay and periodontal disease.
Floss and polish your child's teeth for a healthy, bright smile.
Examine your child's smile for signs of any damaging dental conditions or diseases.
Dr. Funny and Dr. Maynor and our team usually recommend that you visit us every six months for a routine dental cleaning and exam. We may suggest more frequent visits if needed, and we also encourage you to contact us if your child suffers from a dental emergency, pain or injury.
Sealants
A sealant is a preventive dental treatment that our pediatric dentists may recommend to protect your child's teeth from decay. A dental sealant is made of a clear or tooth-colored resin material that is painted onto the chewing surface of the tooth. By blocking out the bacteria and food debris that lead to tooth decay, the sealant prevents decay and cavities. The dental sealant forms a smooth surface over the natural pits and grooves of the tooth surface, which also makes it easier to effectively clean your child's teeth with normal brushing.
Dr. Funny and Dr. Maynor will frequently recommend sealants for the permanent molars as soon as they come in, which is usually between the ages of 6 and 12 years old. We can apply dental sealants in just one short, comfortable visit to our practice. Sealants can be a powerful tool in preventing decay and keeping your child's smile healthy.
Digital X-Rays & Intraoral Camera
Digital X-rays are one of the advanced diagnostic tools we use to provide your child with the best possible care. Digital radiography has changed the way we take dental X-rays by making the process faster and more comfortable than ever before. Digital X-rays use a digital sensor to take images of your child's teeth with significantly less radiation than traditional film. Our pediatric dentists can instantly view the high-quality images on monitors to provide you with efficient, accurate diagnoses regarding your child's teeth. We also have an intraoral camera that our team uses to show both the patient and parent areas of the teeth and gums not typically visible in the mirror. Digital radiography is used to identify and diagnose several types of dental problems, such as:
Decay in between teeth
Developmental abnormalities
Improper tooth root positioning
Cysts and abscesses
Fractures in existing fillings
Tumors
Infection in the tooth nerves
Bone loss
Fluoride
Fluoride is a mineral that is naturally found in water and many foods. While we receive a certain amount of fluoride from our diets and from using fluoridated toothpaste, Dr. Funny and Dr. Maynor may recommend fluoride treatment to further strengthen your child's teeth and prevent cavities.
As we eat and drink throughout the day, bacteria, sugars and acids constantly attack and demineralize the enamel layer of our teeth. Fluoride works to remineralize the tooth enamel, preventing tooth decay and cavities. In addition, fluoride can strengthen teeth as they develop to make sure they are strong and healthy.
Dr. Funny and Dr. Maynor may recommend professional fluoride treatment during your child's regular dental checkup and may suggest further fluoride treatments if your child's teeth are prone to decay or if your child is not receiving a sufficient amount of fluoride from other sources. Professional fluoride is available in the form of a gel, varnish or foam.
If you would like to learn more about our options for preventive care in Charlotte, North Carolina, call University Pediatric Dentistry at 704-688-1664 and schedule an appointment for your child.